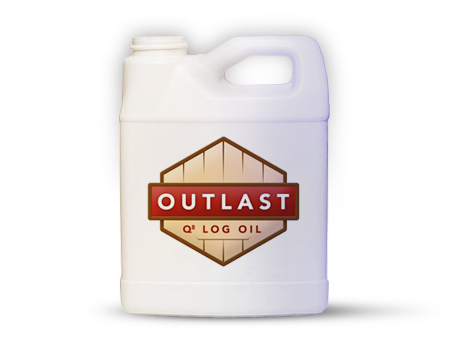 AND PRESSURE TREATED WOOD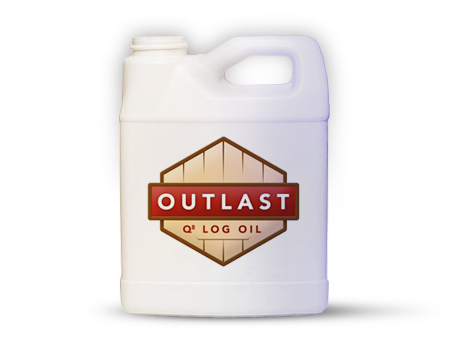 Outlast® Q8 Log Oil is formulated for the coating of freshly sawn ends of pressure-treated wood products. Its use validates the warranty on Wolmanized® and Outdoor® wood and is specified by AWPA for all brands of PT wood end-cuts and fastener holes in above ground residential applications.
It provides unsurpassed water repellency and sheer trans-oxide color with one coat coverage. Outlast Q8 Log Oil is a totally non-film forming exterior treatment that will never crack or peel. The solution soaks deep into the end cuts to provide protection, not just on the surface, but also deep into the wood cell structure.
To never require costly corn-cob removal. No sanding or sandblasting ever needed for re-coats.
No lap marks or brush marks. Low-pressure spray application to refusal.
One coat coverage - low pressure spray, brush or roll

Detergent and water clean-up 

Simple re-coat: no stripping required

Freeze/Thaw Stable - extended shelf life
Most complete exterior stain and finish product in a single coat application.
Q8 Log Oil is available in a variety of colors.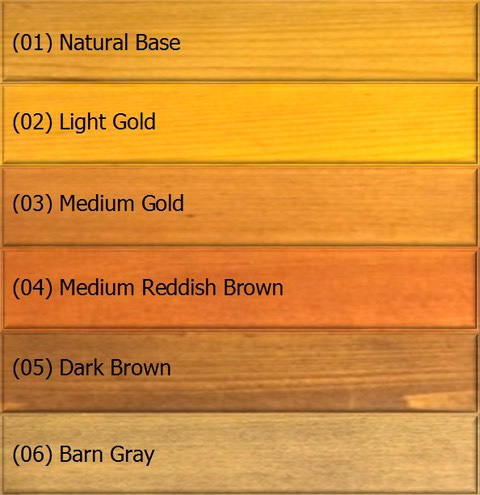 The first place of vulnerability and failure in a piece of wood is an exposed end cut.
Even the most durable species of wood can lose resistance to damage with an exposed end cut. This is especially true for pressure treated timber/lumber. Any end cut of wood or timber—be it from shaping, planning, sawing or installing fasteners—exposes the end grain and makes it susceptible to moisture uptake. This is especially important in exterior construction applications like log homes, wood decks and porches, sidewalls, and cladding.
When moisture is present in wood, it becomes more prone to fungal decay, which leads to an even greater rate of water absorption not just on the exposed end cut but also throughout the board. The end grain is the most susceptible to moisture uptake which can quickly lead to termite activity decay and rot. This is why a treatment with Q8 Log Oil is needed to prevent premature deterioration and rot in exterior construction. Stain, beautify and protect your lumber warranty with ONE soaking coat. Available in 6 beautiful pre-tinted colors.
All residential treated wood (since the elimination of CCA as the pressure treatment chemical) needs to have an end-cut booster treatment. Outlast Q8 Log Oil is the BEST choice for this purpose because it contains .675% copper 8 quinolinolate to meet the AWPA M-4 standard for end cuts, bore holes and fastener punctures AND, it is virtually odorless while drying invisibly into the end grain. Q8 Log Oil is also available in pre-mixed colors for use as an exterior wood stain for the entire wood project allowing end cuts to be treated when staining if desired.
Outlast Q8 Log Oil is one of the few treatments specified in the AWPA M4 standard as an acceptable preservative for pressure-treated lumber cuts. The use of Outlast Q8 Log Oil on all end-cuts validates the warranty for all brands of pressure treated lumber and is specifically mentioned by name in the Outdoor and Wolmanized brand warranty paperwork. Be sure to choose end-cut solutions that are EPA registered wood preservatives specified in the AWPA M4 standard.