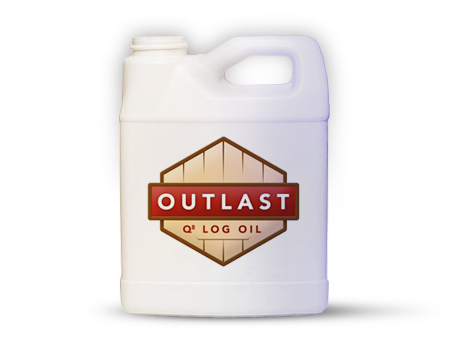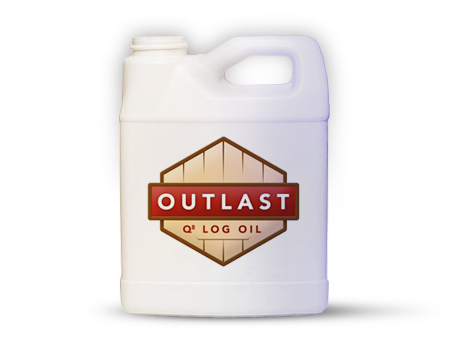 Outlast Q8 Log Oil® is an EPA registered - (EPA REG. NO. 81819-1) - wood preservative specifically designed to control decay causing organisms (and mold, termites, powder post beetles) in log homes – even pressure treated. It provides unsurpassed water repellency and sheer trans-oxide color with one coat coverage. Outlast Q8 Log Oil® is a totally non-film forming exterior treatment that will never crack or peel. Unlike traditional surface coatings, Q8 penetrates deep into the log to provide guaranteed protection and guarantees no peeling or cracking.
To never require costly corn-cob removal. No sanding or sandblasting ever needed for re-coats.
No lap marks or brush marks. Low-pressure spray application to refusal.
One coat coverage - low pressure spray, brush or roll

Detergent and water clean-up 

Simple re-coat: no stripping required

Freeze/Thaw Stable - extended shelf life
Most complete exterior stain and finish product in a single coat application.
Q8 Log Oil is available in a variety of colors.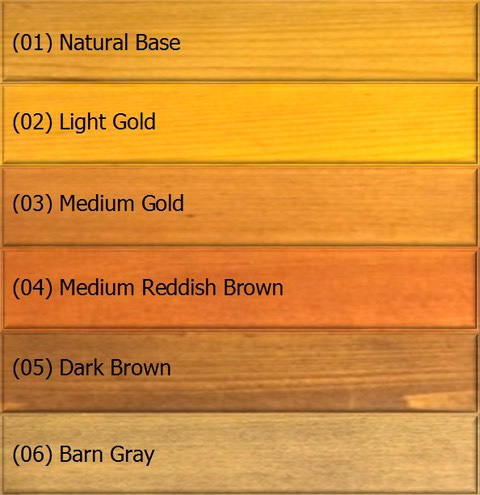 Exposure to the elements can take a toll on your log home.
If you are not keen about upkeep, then you need to brace yourself for the high cost of restoration. Fortunately, there are no wood home or log cabin issues that cannot be addressed and even prevented with the right Outlast products. Q8 Log Oil, is the most complete wood preservative and water repellent for exterior applications. Q8 is a waterproofing and water sealing alternative product that also provides translucent stain color with trans-oxide pigments that can never crack or peel off. Outlast Q8 Log Oil is also one of a very few products available for consumer use that prevents decay, rot and attack by wood ingesting insects such as termites and powder post beetles. Highly effective against mold and mildew, the unique active ingredient in Outlast Q8 Log Oil is the ultimate deck stain and sealer alternative as well as an unsurpassed general purpose exterior wood stain and wood preservative in one product.
A simple visual inspection of your cabin is enough to determine whether or not you need a full-blown restoration, or if your log home only needs additional TLC and maintenance. Ideally, you should do a visual inspection of your property at least twice a year in order to detect potential problems like termite tunnels and loss of water repellency which can lead to rot and decay. Gutters should be installed to deflect rain and sprinklers should be directed away from the sidewalls and foundation. Simply stated, DRY WOOD DOES NOT DECAY. But how can you keep wood dry outdoors in the elements? Use Outlast Q8 Log Oil exterior wood stain and preservative. Make sure to avoid the temptation to waterproof wood outdoors, because these sealer treatments eventually peel and crack away enabling water penetration and further deterioration of the finish.
Even the most basic maintenance routine for your log home can help you avoid costly restoration work, which is why it pays investing in the right water sealer/water proofing alternative: Q8 Log Oil- penetrating log home stain, water repellent, wood preservative and all around exterior wood protectant.