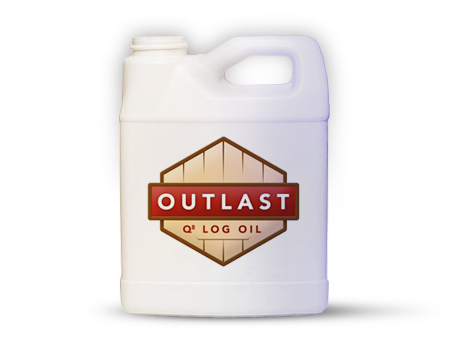 Unsurpassed Wood Preservative
Build, heal end-cuts, stain and preserve your deck all on the same day. Find a dealer below or learn more by selecting your primary use for Q8 Log Oil.
Effective exterior wood preservation starts with a broad-spectrum EPA registered (EPA REG. NO. 81819-1) Wood Preservative.
Very few stain products can claim to prevent mold, decay and insect activity and offer water repellency at the same time. Here at Outlast Products, you will find the best log, timber and lumber preservative treatment solutions and waterproofing alternative systems to extend the life and beauty of any and all wooden structures from your decking to your log and timber home, fences with exposed end cuts, wood roofs and more.
Outlast Q8 wood preservative is formulated to increase wood's durability and enhance its resistance to weathering and aging. Expect vigorous water repellency without ever cracking or peeling off. This superior water repellent -waterproof alternative treatment is easy to apply with a pump sprayer to the point of refusal. When the wood cellulose is thoroughly saturated, the stain is self-leveling as drips blend away and lap marks are non-existent.
Outlast's wood preservative products range from log oil treatments to deck and cladding preservatives, and end-cut and fastener hole sealants that ensure deep absorption well beyond the lumber/log surface to ensure effective preservation and back-up rot control for commercially augmented Pressure Treated lumber. The use of Outlast Q8 will validate warranties on all pressure treated lumber including Outdoor and Wolmanized wood applications. Outlast Q8 Log Oil is American Wood Protection Association (AWPA) approved and specified in the M-4 Standard.